9/11 Misinformation: Flight "Passenger Lists" Show "No Hijacker Names"
The assertion that 9/11 passengers lists "contained no Arab names" is frequently seen in the 9/11 truth movement. [1]  For example, this article by Enver Masud is headlined, "Why are there no Arab names on the passenger list for the planes used in the September 11, 2001 attack…?" [2] The 9/11 website 9/11 Hard Facts claims, "[On] officially released passenger lists provided by the airlines to the media, no Arab names appear on any of the four passenger lists." [3] In David Ray Griffin's 9/11: The Myth and the Reality, he repeats the claim that, "[Their] names should be on the flight manifests. But the flight manifests that have been released contain neither the names of the alleged hijackers nor any other Arab names." [4] John Leonard, Webster Tarpley and Kevin Barrett's publisher repeats the claim that "Scholars [for 9/11 Truth]… report things like 'there were no Arabs on the passenger lists'"[5] As well, Michael C. Ruppert, citing Gary North wrote, "Another easy and non-debatable hole is with the passenger lists and the hijackers. Gary North, Ph.D. – a history professor… relied on lists published by CNN… Official reports state that there were only 19 hijackers. Second, none of listed passenger names are Arabic, Muslim… The government needs to provide an explanation for this glaring discrepancy." [6]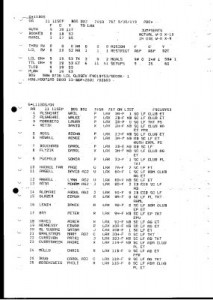 In fact, the U.S. Government withheld the actual passenger lists for years.  An earlier version of Jim Hoffman's page on the passenger lists reported correctly that there was previously "no public evidence… Researchers who have attempted to obtain this information from the airlines have been rebuffed." [7] However, many 9/11 researchers mistakenly cited "victim lists"—not passenger lists.  Jim Hoffman explains:
"According to the official story, teams of four and five Islamic hijackers took over Flights 11, 175, 77, and 93. Victims lists for the four planes published by CNN and elsewhere are free of Arab names…  This fact has been highlighted as suspicious by some researchers describing the lists as passenger manifests. However, these lists are not passenger manifests, but lists of victims… CNN describes its criteria for including persons in its memorial in a pop-up window labelled 'About this site'… '(Those identified by federal authorities as the hijackers are not included)…' In July of 2006 a large collection of documents was published on a website containing prosecution and defense exhibits for the trial of Zacarias Moussaoui… The faxes, reproduced below, include the names of the alleged hijackers." [8]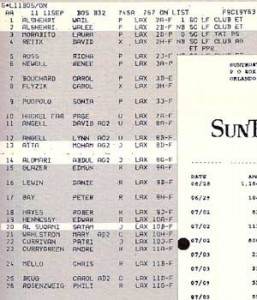 Referring to "victim lists" as if they were "passenger lists" would be significantly misleading.  The CNN website frequently cited reveals that the alleged hijackers were intentionally not included.  The Complete 9/11 Timeline also cites "Terry McDermott's 2005 book, Perfect Soldiers… Names of the five hijackers [on the manifest] are highlighted." [9] McDermott apparently got these images and other material from the FBI, but 9/11 blogger and researcher Reprehensor claims, "When [Elias] Davidsson tried to get the manifests via FOIA, he was denied [access]." [10] These printouts are criticized by Elias Davidsson who says that, "these printouts contain no authentication and were not accompanied by chain-of-custody reports. These lists were released discreetly, without comments or indication as to their source… the FBI and the airlines have consistently refused and continue to refuse to release the authentic, original, passenger lists and flight manifests, of the four 9/11 flights… As the names of all victims and alleged hijackers have been publicized within days after 9/11, privacy considerations cannot explain the refusal to simply confirm—by releasing the original, authentic, documents—what has been publicly asserted since 9/11." [11] In other words, the authenticity of these documents have been questioned by some 9/11 researchers.