Commentary by John Bursill – Contributor and supporter of 911Blogger.com – 10/28/10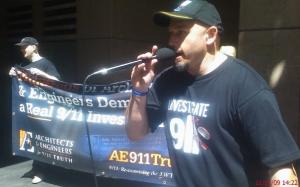 "Is 911Blogger.com working for the other side?"  This question has been asked in an article written by the "staff writers" at the Rock Creek Free Press.
I found this article I have attached below rather corrosive and it appears to me some people ("staff writers") want to perpetuate some sort of civil war within our movement over the Pentagon? Or is it only that many people truly believe that no plane hit the Pentagon and need a plausible scenario to make that theory work for them? And the limiting/censoring of CIT's exposure and other advocates of no plane theory, is just too much to bear and they have to speak out for their important theory?
Now any reasonable person could accuse 911Blogger.com of being, too careful, too reasonable, too responsible and pro positive public relations, fair enough. But to insinuate they are working for the government is laughable, ridiculous and very hurtful to some very hard working 9/11 Truth Advocates at this site!
So here's my take on it…"the censorship of CIT"?
Well firstly it is not just 911Blogger.com who has limited or removed support from groups and or people over the years, such as CIT, Webster Tarpley, Kevin Barrett, Pilots for Truth, Jim Fetzer, Morgan Reynolds, Judy Wood and David Shayler to name but a few. This is a very common thing within political movements to stick to the best evidence and information and to only support people who behave civilly and responsibly regarding their dealings with people and subjects associated with the case being advocated. The 9/11 Truth movement is probably the loosest political campaign in history and is so full of misinformed people and theories it is already nearly impossible to get any high level support for such a rabble.
So who gives sites like 911Blogger.com the right to chose who they support? Well in a nut shell, they do! It's their site and they do what they please based on their experience and the advice they chose to take from the experts they trust around them.