Popular Mechanics Debunks 12/25 Santa Claus Truthers
by Joe Crubaugh
Friday, July 27th, 2007
In March 2005, Popular Mechanics published an article called Debunking The 9/11 Myths, that denigrated all unofficial 9/11 conspiracy theories while exalting the official 9/11 conspiracy fairy tale.
Since then, the Popular Mechanics article has been thoroughly exposed as hogwash, and Popular Mechanics has loosed its inferior and wanting investigative experts on another growing community of U.S. citizens who hunger for the truth about a different event: What Really Happened on 12/25?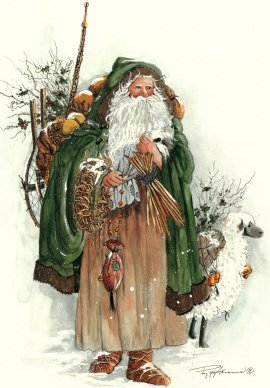 Debunking 12/25 Myths
FROM THE MOMENT the first gifts were spotted beneath millions of U.S. Christmas trees on the morning of December 25, the world has asked one simple and compelling question: How could it happen?
Seven months later, not everyone is convinced we know the truth.
Go to Google.com, type in the search phrase "Santa Claus conspiracy" and you'll get links to thousands of Web sites. It will baffle and surprise most Americans to discover how many of these sites reject the official consensus that nine reindeer flew Santa Claus and a sleigh onto U.S. rooftops in the early hours of 12/25.
Healthy skepticism, it seems, has curdled into paranoia. Wild conspiracy tales are peddled daily on the Internet, talk radio and in other media. Blurry photos, quotes taken out of context and sketchy eyewitness accounts have inspired a slew of elaborate theories:
There was no "red-nosed" reindeer, or there were only eight reindeer. Some claim there were no reindeer at all.
Some U.S. parents actually had advance knowledge that Santa and the elves were determined to break and enter on 12/25, but these parents let it happen on purpose anyway.
The Santa gifts were only one facet of a vast marketing scheme perpetrated by parents with additional help from Toys "R" Us.(Not surprisingly, this theory's proponents fail to address why parents would scheme to rid themselves of their own hard-earned cash. "Follow the money," one PM expert suggested, "and it all goes to the children." Simply put: there is no motive.)
Perhaps most outlandish of all, some theorize Santa Claus doesn't even exist. Instead, they say, the immortal magic elf was perpetuated by one or more actors who somehow managed to show up and be photographed at every shopping center in every city in every state almost every single day between Thanksgiving and Christmas!
As outlandish as these claims may sound, they are increasingly accepted abroad and among extremists here in the United States.