Blast From the Past – Colorado 9-11 Visibility Strikes Again with Another Cover Story, 2004
********
The Smoke Clears
Three years after the attacks, the 9/11 Visibility Project opens Coloradans' eyes to the "truth."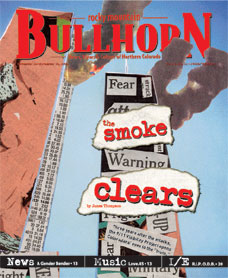 Rockymountain Bullhorn.com -Issue November 22, 2004
By James Thompson
Awkward is one word to describe how the three stand, huddled, coffeeless in a coffee shop in Old Town Fort Collins. Casually dressed, young and well groomed, they don't look like a bunch of conspiracy theorists out to expose government treachery—then again, maybe they look exactly that.
Michael Wolsey is the first to offer a handshake. The 41-year-old (he looks 30) Greeley siding contractor's jeans and zip-up sweatshirt are spattered with caulking, and his baseball cap bears the word Philadelphia, with a Liberty Bell. He grasps a paperback copy of The New Pearl Harbor in his hand.
Aaron Long and Elliot Nesch, both graduates of Fort Collins High and students at Front Range Community College, introduce themselves, Long shifting a conspicuous black metal attaché from right to left hand. A moviegoer might assume the briefcase is a cornucopia of top-secret memos, but in the hands of a 20-year-old kid it's just—well, awkward.
The uneasiness slowly dissipates, though, when they finally sit down over cappuccinos and begin to explain how in the past year they went from closet skeptics to some of Northern Colorado's most vocal critics of America's role in the September 11 terrorist attacks…
"The first thing that got me looking at it was the Patriot Act," Wolsey says. "We're talking thousands and thousands of pages worth of law. How could they get such a massive document out in two days?"
Wolsey came to the conclusion that the act already had been drafted, and by someone who knew about 9/11 and was exploiting both for political gain.
"I began to do a lot of research on my own, reading everything I could get a hold of, watching videos and stuff like that," he says. "Eventually they created the website, and I found it."
The website Wolsey refers to, septembereleventh.org, is the 9/11 Visibility Project. It's an educational/activist outlet for the so-called 9/11 Truth Movement, which is backed by such national progressive notables as Howard Zinn, Medea Benjamin, Gore Vidal and Jim Hightower.
Begun about a year ago in the unlikely metropolises of Kansas City and Seattle, the grassroots project coordinates meetings among truth-seekers around the country and now has several local and regional action groups from coast to coast, including in Colorado.
Wolsey hooked up with the Colorado group this summer in Boulder and Denver, and he met Long in August—on the Web, of course. He and Long are now the Northern Colorado contacts for Colorado 9/11 Visibility Project.
Wolsey, Long and Nesch say they log countless hours each week trying to get the word out, with Wolsey developing the Colorado website (his first ever) and the other two copying complimentary DVDs and literature, and coordinating gatherings, like the October 20 standing-room-only event at the Fort Collins Harmony Library.