Former congresswoman calls out Bush for 9/11 response
The Online Edition of the Arizona Daily Wildcat
by Jackson Crews
10/4/07
Former congresswoman Cynthia McKinney condemned the Bush administration's handling of the Sept. 11 terrorist attacks during a speech in front of more than 70 people yesterday at the First Christian Church.
Speaking on a range of issues, McKinney, a Democrat, drew loud applause several times, particularly after critizing how the administration responded to the 2001 attacks on the World Trade Center towers in New York City.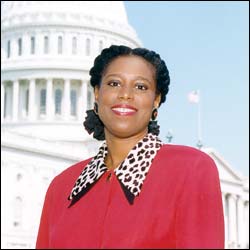 "How in the world can we sustain the injuries from Sept. 11th and not even ask any questions about what happened that day?" she asked.
She said members of Congress received "talking points" in the days after the attack urging them to tell their constituents that "(the attackers) hate our freedom."
"I thought that the failure of the Bush administration to protect the American people on Sept. 11, in and of itself, constituted high crimes and misdemeanors."
McKinney wanted to impeach Bush, but her mother persuaded her not to follow through.
"I hand-wrote articles of impeachment, but my mother said, 'Leave it alone, Cynthia, because they will kill you,' " McKinney said.
Several times she addressed the close presidential elections in 2000 and 2004.
"In 2000 – don't let anybody fool you into thinking that Ralph Nader was the cause of the Democrats losing the election," she said, receiving a round of applause.
"The bottom line is that the Republicans stole the election, and they stole it off the hopes and the dreams of black and brown people in Florida; and then, in 2004, they did it again."
Yesterday marked McKinney's second visit to Tucson. It was organized by Claudia Ellquist, co-chair of the Arizona Green Party.
McKinney hinted that she might again run for public office, this time as a Green Party candidate.
"If I am a candidate, it would be for only one reason: to provide an opportunity for the American people to vote their values, for a change and to also know that that vote … will institutionalize another seat at the public policy-making table."