Dawdler in chief: The suspicious behavior of George W. Bush during the 9/11 attacks
By Matthew Everett
Online Journal Contributing Writer
September 11, 2007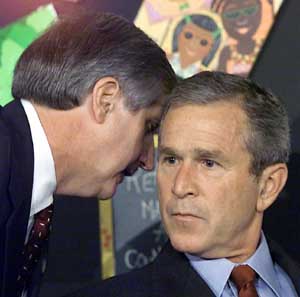 "Sandy Kress, Bush's unpaid education advisor, was puzzled. Bush was always on time. But on the morning of Tuesday, September 11, he seemed to want to linger, talking about politics and mutual friends in Texas." [1] So wrote Ronald Kessler in his account of the Bush presidency, A Matter of Character. The time in question was around 8:30 a.m., a quarter of an hour after American Airlines Flight 11 had broken communication with air traffic controllers. The 9/11 attacks were now underway. While many odd things took place that morning, Kress's observation highlights another curious detail: On September 11, 2001, President Bush was running late.
This would be of little significance were it not for the fact that this behavior was completely out of character for the president. Bush is not known for dawdling. For example, earlier in 2001, CNN's congressional correspondent Jonathan Karl talked of "Bush's reputation for being punctual." [2] According to David Frum, a former speechwriter for the president: "Bush is famous for his punctuality." [3] Sandy Kress has called him "a very punctual person." [4] According to the Washington Post: "Bush's staff, his friends, his family, his wife" all describe him as "an intensely disciplined and focused individual," who "puts a premium on punctuality." [5] The London Times stated it more bluntly: "There has probably never been a president, there may not have been a human being, who observes punctuality with the sort of fanaticism that President George W. Bush brings to every aspect of his life." [6] That was not, however, the case the morning of September 11.
Early morning
As he began that day, there was little that appears unusual in the president's behavior. He'd arrived at the Colony Beach and Tennis Resort on Longboat Key, Florida, at 6:30 p.m. the previous evening, being in Florida as part of an effort to place a national spotlight on education. Bush went to bed early, as was his custom. [7] He'd gotten up just before 6 a.m. the morning of September 11. At 6:30, he went for his daily jog, going four-and-a-half miles around the Longboat Key Golf Club, accompanied by several Secret Service agents, and joined part of the way along by Bloomberg News White House correspondent Richard Keil. After returning to his hotel, the president ate breakfast, showered, and got dressed. Then, for the next hour, he met in his penthouse suite with a series of advisors, including — at just after 8 a.m. — receiving his daily CIA briefing. Reportedly, "The heightened threat of terrorism was mentioned this morning," during the briefing, "as it had been nearly every morning since George W. Bush took office." With his CIA briefer the president discussed the latest developments in the Middle East, particularly the Palestinian situation. [8] So far, so good.
Bush only appears to have begun acting out of character after 8:15, which happens to coincide with the time the attacks were beginning, when Flight 11 broke contact with air traffic control. [9] At that time, Bush met with Sandy Kress to go over the details of his planned 9 o'clock visit to the Emma E. Booker Elementary School in nearby Sarasota, where he was set to take part in a reading program demonstration and then address parents and teachers. Also in the meeting were Bush's senior advisor Karl Rove, White House chief of staff Andrew Card, and Secretary of Education Rod Paige. Bush was scheduled to leave the resort at 8:30 a.m. for the drive to the school. But, Kress has recalled, he "was just sitting back and wanting to talk for a bit." According to Kress: "I've never known him to be late. But I remember we finished the briefing on that fateful day, and we continued to talk for another ten minutes about people and politics in Texas. The time to leave came and passed." Kress added: "That struck me as unusual." [10] It appears that Bush was dawdling.