Two Days Before 9/11, Military Exercise Simulated Suicide Hijack Targeting New York
by Kevin Fenton
historycommons.org
The US military conducted a training exercise in the five days before the September 11 attacks that included simulated aircraft hijackings by terrorists, according to a 9/11 Commission document recently found in the US National Archives. In one of the scenarios, implemented on September 9, terrorists hijacked a London to New York flight, planning to blow it up with explosives over New York.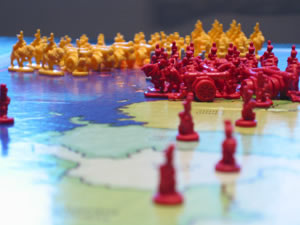 The undated document, entitled "NORAD EXERCISES Hijack Summary," was part of a series of 9/11 Commission records moved to the National Archives at the start of the year. It was found there and posted to the History Commons site at Scribd by History Commons contributor paxvector in the files of the commission's Team 8, which focused on the failed emergency response on the day of the attacks. The summary appears to have been drafted by one of the commission's staffers, possibly Miles Kara, based on documents submitted by NORAD.
In the September 9 scenario, the fictitious terrorists' goal seems to have been to kill New Yorkers with the rain of debris following the plane's explosion. However, in the exercise, the military intercepted the plane and forced it away from the city. When the terrorists realized they were not near New York, they blew the plane up "over land near the divert location," leaving no survivors. The military unit most involved in this scenario was NORAD's Northeast Air Defense Sector (NEADS), which also played a key role in the air defense response to the 9/11 attacks, two days later.