A Big THANK YOU to All My Listeners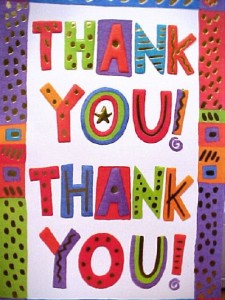 I want to take this opportunity to thank all of my listeners and in particular, those who have made the effort to help us here at Visibility 9-11 and those who have taken the time to send us comments.
The failing economy, and especially the crippled housing market has had a dramatic effect on me and my family.  I am a contractor and work mostly on residential home building and remodeling.  The last year, particularly the last 6 months has been terrible and the worst I have seen in 12 years since I began my business.  I have been blessed with some great help from the church that I go to, however, this is helping to cover my basic needs and cannot be counted on to help me with my 9-11 work.
Our plea for help in getting the cost associated with the show and website have not gone unanswered.  I was humbled and blown away by the response that I received and am truly grateful to each and every one of you who got involved and helped us.  Asking for help is not something I have ever been comfortable with and if I had my way I would never do it again.  It's nice to know that if the need does arise, that I have the backing of some great folks who are eager to get involved with our efforts at Visibility 9-11.
Thank you, Thank you, Thank you!
I also want to take this chance to thank all those who have taken the time to write letters of encouragement and support.  I cannot tell you all how much these letters mean to me so keep them coming.  Below is a collection of emails that I have received that I want to share with everyone.
Again, thank you all for taking the time and caring!
Best Wishes in Truth-
Michael Wolsey
*************************************************************************
Michael,  I am so appreciative of your podcasts.  I have loved the podcasts recently about the nanothermite.  I feel I have friends on the other end of my I-pod.  –Paul
Michael,  First I love your podcast. Thank you.  Keep up the good fight. You are a true patriot. God bless you and protect you.  –Dan
Hi Michael.  Thanks again for all of your hard work to bring out the truth about 9/11.  I just made a donation.  I wish you the best!  -Paul
"Visibility 9-11 with Michael Wolsey" is an excellent radio show. This program is well produced and offers information, analysis, and viewpoints that are badly needed in our age of corporate controlled media. The most important feature of this great program is that it emphasizes the need for truth about the events of 9/11, a need that affects all people. –Kevin Ryan
Michael,
Thank you for such a great site I was WTC Chaplain from Ohio.  It is hard since I do not know any other responders from Ohio.  I do enjoy your site I found it over the weekend.  God bless you for what you are doing.  Thank you, -Fr. Stephen Petrovich,  First Responder from Ohio 911
Michael, Your show is the absolute best on the internet.  I have been involved in 911 Truth for years now – and yours is the only site I believe brings together, informs and clarifies for both those seasoned in their understanding as well as those new to studying truth.  Thank God for you and for the work you do.  –Martha
Thank you so much for using "September Eleven Blues" in your excellent podcast. I really enjoy listening to your show, I'm hooked for sure!! Loved the James Hoffman episode, I'm still going through all the archives!  –Jesse Goplen
Hey, brother. I've been listening to the show for some time now and I love it.   -TruthSeeker
Hi Michael, thanks for being part of Radio Revolution!!! Wishing you a perfect day, love.  –RR.
Hi Michael,  I admire what you're doing re 911.  –Annie Machon