Peter Dale Scott Does Not Endorse the Pentagon Flyover Theory (and Neither Do I)
by Erik Larson
911 Reports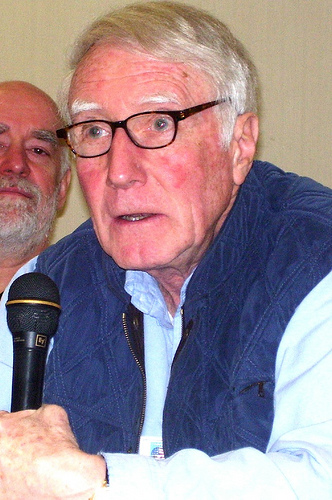 Dr. Peter Dale Scott, researcher, author and UC Berkeley Professor Emeritus, recently praised the latest video from CIT, 'National Security Alert'. However, due to receiving many emails critical of CIT's work, he issued a qualifying statement, which I asked for and received permission to post publicly. CIT's film presents witnesses whose statements indicate, or seem to indicate, that American Airlines Flight 77 did not fly the path that we have been told knocked down light poles and caused the damage at the Pentagon, as well as the testimony of an apparent eyewitness to a plane that flew over the building. The film also contends that it is "conclusive" that AA 77 did not hit the Pentagon, that instead it flew over the building. However, in his qualifying statement, Dr. Scott says, "I do not personally believe it." He explains, "All I endorsed was their assemblage of witnesses…. I do not draw the conclusions from their testimony that CIT does."
This is Dr. Scott's statement at CIT's website:
Citizen Investigation Team has produced an important documentary video that, using numerous independent witness accounts, successfully rebuts the official account of Flight 77's flight path on 9/11 as it approached the Pentagon. It constitutes a further compelling reason for this country to investigate properly, for the first time, the full story of what happened on that day.

– Dr. Peter Dale Scott

citizeninvestigationteam.com/praise.html
At the above url, there is a link to the film, National Security Alert.
This is Dr. Scott's statement of qualification, in full:
This is a form letter in response to the flood of letters that has been showered on me by those who do not like CIT.

I have not endorsed the flyover theory for Flight 77, and I do not personally believe it. All I endorsed was their assemblage of witnesses who said that Flight 77 approached the Pentagon on the north side of the Pike. I do not draw the conclusions from their testimony that CIT does. But I believe that the testimony needs to be seriously considered by those trying to find out what actually happened.

I must say that I am disappointed by number of ad hominem attacks I have received. I do not believe one incoming letter so far has dealt with the substance of what the Turnpike witnesses claimed and I endorsed.

In his famous American University speech of June 1963, John F. Kennedy famously said, "And we are all mortal." I would add, "And we are all fallible." For this reason I would ask everyone in the 9/11 truth movement to focus their energies on the substance of what happened on 9/11, and not discredit the truth movement by wanton attacks on each other.

Sincerely,

Peter Dale Scott
In his message giving me permission to post, Dr. Scott also said, "I am now aware of [CIT's] ad hominem attacks on good people, which is a big reason why I am giving you this permission." In my email to him, I had included a link to the CIT forum thread titled "Face to the Name", where they post names and photos, and insult and attack those who question their methods, conclusions and behavior:
z3.invisionfree.com/CIT/index.php?showtopic=508
My name and photo are on page 4; CIT co-founder Aldo 'Investigangsta' Marquis claims I have made "accusations of being disinfo" against CIT. This is not correct; I have criticized CIT's evidence, claims and behavior, but I have not accused them of 'disinformation', i.e. intentionally misleading the public.