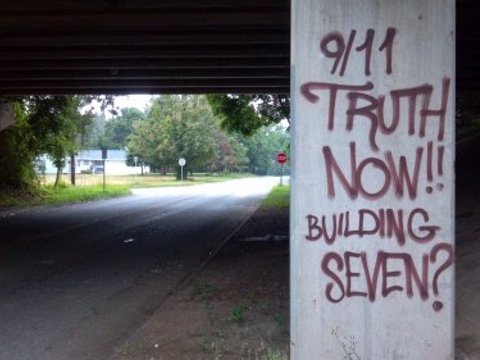 Out of the cheese plate, onto the ballot. This November, New Yorkers may vote on a referendum that would force further inquiry into the collapse of 7 World Trade Center on 9/11, thanks to a group called NYC Coalition for Accountability Now.
The "High Rise Safety Initiative" petition, which the group says received 67,192 signatures, would fund a DOB investigation of the Building 7 collapse with a 0.9% surcharge on construction permits. Per the City Charter, the City Council could still reject the petition, and require the submission of 15,000 more signatures from registered voters; the group is aiming for 33,000 more to settle the matter, and says it needs $60,000 by July 20th to do so. The petition first came to light in June.
The National Institute of Standards and Technology and the Federal Emergency Management Agency were the two groups behind the initial findings that fire was what brought down the building. A 2013 poll showed that only 11% of respondents believed that the U.S. government allowed 9/11 to happen. But those associated with NYC CAN are unmoved.
"I watched what was going on very closely and I was very dissatisfied with the findings," said Valerie Lucznikowska, who lost her nephew on 9/11, was present for the submission of the petition last Thursday. "I am a native born New Yorker and I spend a great deal of my time in tall buildings and when NIST said it caught fire from the other buildings it disturbed me. If a building can just fall down like that, that is something that should be really investigated for the future."
Lucznikowska, who spoke at the Building 7 conference we attended in 2011, argues that she is not a conspiracy theorist, but a concerned citizen who questions the methods used by NIST when determining the cause of collapse.
"They used models to recreate it, and I just don't think they went deep enough with the investigation," Lucznikowska says. "Just the thought that this could happen it does not sit well with me and I would like to know more about it. I think this is a valuable petition and there are at least 67,000 people who agree with me. I'm not saying there was a conspiracy I am just worried about why it happened and I don't want to see it happen again."
According to their Facebook page, "NYC CAN is non-partisan organization comprised of 9/11 Families, First Responders, Survivors and proud, concerned citizens committed to bringing about an independent, impartial investigation into the events of September 11."
A similar petition and ballot push was issued by NYC CAN in 2009, but they were unable to collect enough signatures.
Asked about the petition today, Mayor Bill de Blasio said, "From what I've heard it's absolutely ridiculous. And it's inappropriate, after all the suffering that went on 9/11 and since. It seems to be this is a very insensitive and inappropriate action." The mayor added, ""I believe the City Council will share our view that this should never be on the ballot."
Noam Chomsky describes why it has so far been difficult for the Building 7 crowd to find others sympathetic to their cause.