???????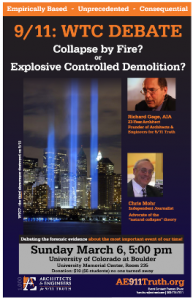 On Sunday afternoon, March 6th, at the Boulder campus of the University of Colorado, Colorado 9/11 Visibility hosted a debate between Richard Gage, AIA (American Institute of Architects), and Chris Mohr, Denver investigative journalist and nondenominational minister.  This is the audo of that historic debate.
The question: What brought down the three World Trade Center skyscrapers?
Richard Gage, AIA, is a San Francisco Bay Area architect and a member of the American Institute of Architects. He has been an architect for over 23 years and has worked on most types of building construction, including numerous fire-proofed, steel-framed buildings. His quest for the truth about 9/11 began in 2006, and he subsequently founded Architects and Engineers for 9/11 Truth.
Chris Mohr, investigative journalist and advocate of the "natural collapse" theory, is a sincere seeker of the truth who has extensively researched the collapses of the World Trade Center (WTC) buildings, consulted with independent physicists and engineers, and passionately argues that the buildings collapsed due to the plane impacts and fires.
In November 2010 at Denver's Mercury Café, Mohr debated attorney Earl Staelin on the collapse of the twin towers. This debate was unprecedented in its civility and professionalism.
During this debate between Chris Mohr and Richard Gage, the discussion explored not only the collapse of the twin towers, but also that of 47-story World Trade Center Building 7, which collapsed completely at 5:21 pm on 9/11/01. For those of you not familiar with the collapse of WTC7, this is a riveting, don't-miss controversy. We look forward to a dynamic, respectful, and thoroughly informative exploration of these topics.
Special thanks to Colorado 9-11 Visibility and all the volunteers and donors that made this event possible.
To listen to the debate, click Play in the embedded player below. Click download if you would like to download the file for your media player or iPod.