Former EPA Boss Grilled on 9/11 Air Quality
June 25, 2007
NY1 News

Former EPA Chief Christine Todd Whitman faced fierce questioning in Washington Monday as she testified under oath about her declaration that the air was safe to breathe immediately following 9/11.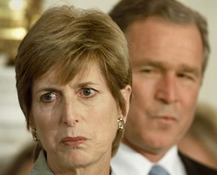 Whitman took the stand at the hearing, led by Manhattan Congressman Jerrold Nadler, to answer questions about the cleanup of the Trade Center site and on what she knew and when about the air quality in Lower Manhattan in the days and weeks following 9/11.
The former EPA head declared the air around the site to be safe to breathe just days after the attacks. But in the nearly six years since, independent government reports have been critical of the EPA's handling of the clean up, and studies have shown that a staggering 70 percent of first responders now have some degree of respiratory problems, leading some on the panel to denounce the EPA and its former chief for negligence.
Whitman said her assurances that the air was safe to breathe in Lower Manhattan in the days after the attacks were based on scientific evidence.
"Congressman, you know it's fine to go through the yeses and nos, but I think it's important for people to understand that these were not whims, these were not decisions by a politician. Everything I said was based on what I was hearing from professionals," she said.
Both Whitman and John Henshaw, the Occupational Safety and Health Administration chief in the aftermath of the attacks who joined Whitman in testifying before the panel, made a big distinction between the air quality in general in the Lower Manhattan vicinity and in the critical "pile" area where the work was centered.
Whitman said that EPA officials repeatedly warned workers at Ground Zero to wear protective gear and respirator equipment on the so-called "pile." She also defended the EPA's handling of air quality testing.
"This was a response where I believe every level of government did their very best. To say that anyone is perfect, that's not within the purview of mankind. But to then say that because their might – to say that not everyone is not perfect in every instance, although I think we did an outstanding job, to then say therefore it was malicious and with forethought and intent to mislead is an extreme, where I think it's dangerous."
The two maintained that exposures were well within acceptable levels outside the critical pile. Henshaw said around 4,000 respirators were distributed to workers at Ground Zero per day – 131,000 in total were given out. He also said that OSHA staff did everything humanly possible to assure worker protection in the ensuing ten months.
Neither Whitman nor Henshaw expressed any regrets about their re-assuring statements to the public.
Sunday, Whitman criticized former Mayor Rudolph Giuliani, saying the city didn't require workers at the site to wear respirators, something Giuliani says he doesn't remember being told. Whitman refused to discuss the finger-pointing.
"I don't think that the mayor is blaming me. I'm certainly not blaming the mayor. I don't think that that's a fruitful thing in which to engage for now," said Whitman. "I don't believe necessarily that he said it relative to the pile. Certainly to the ambient air quality in Lower Manhattan in general, absolutely, because that's what I said."
Whitman says Americans should place the blame on the terrorists, not her or the government.
Earlier today, dozens of Lower Manhattan workers, residents, and activists traveled to Washington today to listen to Whitman's testimony.
They left the city by bus this morning, saying they want to know why Whitman originally said it was safe to breathe the air downtown after September 11th.
"We want to express the fact that Christie Whitman lied when she said the air was not toxic and that people could work in an area where the air was toxic," said one person who attended the bus trip. "A lot of the people who lived and worked there are sick and continue to get sick."
The bus trip was organized by the World Trade Center Community-Labor Coalition, a network of community, tenant, labor and environmental organizations.
Original article no longer available.