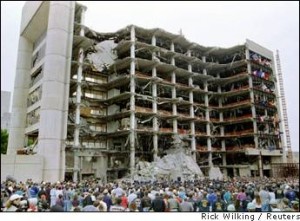 April 12, 2015 by Kevin Ryan
Next week will mark the 20th anniversary of the terrorist bombing of the Murrah Federal Building in Oklahoma City, which killed 168 people including 19 children. The mainstream media will undoubtedly focus its attention on Timothy McVeigh, who was put to death in June 2001 for his part in the crime. They might also mention Terry Nichols, who was convicted of helping McVeigh plan the bombing and is serving a life sentence without parole.
There will be less discussion about how the FBI spent years hunting for a man who witnesses say accompanied McVeigh on the day of the bombing. They called this accomplice John Doe #2 and theories about his identity range from an Iraqi named Hussain Al-Hussaini, to a German national described below, to a neo-nazi bank robber named Richard Guthrie. The Justice Department finally gave up its search and said it was all a mistake— that there was never any credible evidence of a John Doe #2 being involved.
That reversal demonstrates a pattern of cover-up by authorities and limited media coverage in the years since the crime. This week, accounts will not repeat early reports of secondary devices in the building, or reports of the involvement of unknown middle-eastern characters. There will also be little if any mention of the extensive independent investigation into the crime that was conducted by leading members of the OKC community. Here are seven more facts that will probably not see much coverage on the 20th anniversary.
On April 19, 2015, at the 20th anniversary of one of the worst terrorist attacks in history, citizens should be reminded that we don't know what happened that day. We don't know because officials have covered-up the crime for unknown reasons and most media sources will not challenge that cover-up.
Kevin Ryan blogs at Dig Within.