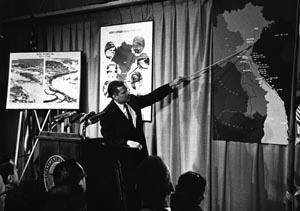 source: Raw Story
by Gareth Porter
Official government documents reveal new side of defense secretary's legacy
Robert S. McNamara, Secretary of Defense from 1961 to 1967, took many secrets with him when he died Monday at 93. But probably no secret was more sensitive politically than the one that would have changed fundamentally the public perception of his role in Vietnam policy had it been become widely known.
The secret was his deliberate deceit of President Lyndon B. Johnson on Aug. 4, 1964 regarding the alleged attack on US warships in the Gulf of Tonkin.
Documents which have been available for decades in the LBJ Library show clearly that McNamara failed to inform Johnson that the U.S. naval task group commander in the Tonkin Gulf, Captain John J. Herrick, had changed his mind about the alleged North Vietnamese torpedo attack on U.S. warships he had reported earlier that day.
By early afternoon Washington time, Herrick had reported to the Commander in Chief Pacific in Honolulu that "freak weather effects" on the ship's radar had made such an attack questionable. In fact, Herrick was now saying, in a message sent at 1:27 pm Washington time, that no North Vietnamese patrol boats had actually been sighted. Herrick now proposed a "complete evaluation before any further action taken."