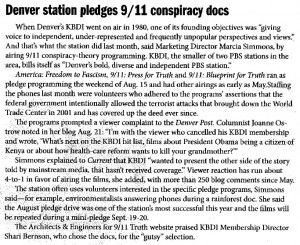 Recent airings by KBDI-TV Channel 12 in Denver C0lorado of important documentaries such as 911 Press For Truth, 911 Blueprint For Truth and America Freedom to Fascism has received substantial mainstream media attention, first, here in the Denver Post hit piece from August 21, 2009.
Current Magazine, public broadcasting's monthly newspaper, has now given this bold move by KBDI some well deserved attention in its September 8, 2009 issue.  This article is much more balanced than Joanne Ostrow's smear of the movement and is more in line with real journalism that is so lacking in today's mainstream media.  Thank you to Current Magazine!
KBDI has also announced that there will be several encore presentations of these films in the month of September.  Times and dates are below.
Everyone is urged to show KBDI how much you appreciate their programing by donating anytime online!  Be sure to link your contribution to one of  these films to receive the gifts KBDI offers for your pledge.
SCHEDULE OF AIR TIMES
Thursday September 17
8:30 PM 911 Blueprint for Truth
Friday September 18, 2009
2:30 AM America: Freedom to Fascism
Saturday September 19, 2009
1:00 AM 911 Blueprint for Truth
3:00 AM 911 Press For Truth
2:30 PM America: Freedom to Fascism
5:30 PM 911 Blueprint for Truth
7:30 PM 911 Press For Truth
10:30 PM America: Freedom to Fascism
Sunday September 20, 2009
1:30 AM America: Freedom to Fascism
4:00 PM 911 Press For Truth
7:00 PM America: Freedom to Fascism
11:00 PM 911 Blueprint for Truth
Monday September 21, 2009
1:00 AM 911 Blueprint for Truth