Dear Listener-
I want to take this opportunity to thank all of my listeners and supporters. Without you, none of what has become known as Visibility 9-11, would be possible. Thank you for spreading the truth about 9-11, for listening and appreciating the work that we do at Visibility 9-11, for the kind and supportive emails that you have shared, and for the financial support you have given to help make this program and the website the best it can be.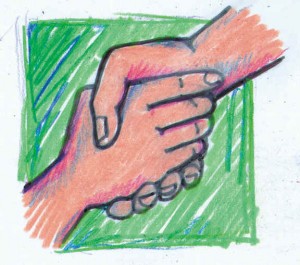 For 3 years now, thanks to the generous support of YOU the listener, we have been able to pay for all the expenses relating to producing the show and website, including getting the equipment required to produce a quality program in a timely manner. We think that we have succeeded and now have one of the best, most credible resources available in the 9-11 Truth community.
Many of you have noticed that recently I have not been producing programs as regularly as I have done in the past. I have held back in giving away too much of my personal life, however, I can give you an update today. By the way, thank you all for the kind emails of concern and encouragement! They really meant a lot to me during a rough time in my life.
2008 was not a good year for me personally. I know it sounds silly now, but to put it bluntly, I got my heart broken into a million pieces at the beginning of the year. Long story short, in 2006, I met a beautiful woman who I thought was to be the love of my life and whom I absolutely adored. She was actually one of my listeners and I met her through the program. I thought WOW, here is what I have been waiting for all these years. In August of 2007, I asked her to marry me and she said yes. By February of 2008, she broke my heart.
At about that same time, I could feel the economy beginning to crumble here in Northern Colorado. Through my business, I have my finger on the pulse of the local economy and I was seeing signs that things were not good. I work in the construction industry and so all the troubles with the housing and mortgage industry were really beginning to directly affect me. Work was very hard to find and getting harder. In May of 2008, a tornado came through a town close to where I live, Windsor Colorado. I knew I was going to be in trouble this winter when all summer long, normally my busiest time of the year, I didn't get a single call for work except for work from the tornado. As it turned out, the tornado was a blessing as it kept me somewhat busy all summer and autumn. As if this all weren't enough, right before Christmas, I also hurt my back. When it rains it pours!
As I sit now, I haven't worked since before Christmas. The economic depression is inside my home now. I had to move from the apartment I was renting because I couldn't pay the rent and all the other obligations that go along with that.
Now there is a silver lining underneath all these clouds. I can say that I have been, and continue to be blessed by God. The church that I go to heard about my struggles and offered to let me move into one of their homes, which I have done, although still getting settled in. The church has also given me work at one of their other homes and I am completely remodeling the place including full kitchen and bath remodel. I was also blessed with an awesome and amazing chiropractor who after hearing about my situation, has refused to charge me for the visits and has got me back on my feet. I have a stockpile of food so I am not going to starve, and overall, my spirits are high. I can't say I have found love again yet, but the good news is, my heart has done a lot of healing in the past year and I am ready to give my heart again someday.
With all that said, I have some important episodes of Visibility 9-11 that will be published very soon. You may notice in these episodes that for the first time, I am running a new spot during the break asking for your financial support. I haven't done this much in the past, and I am at a point where I need to do it again. Despite the blessings I have listed above, today, I am still unemployed. I can no longer pay for the phone or the cable internet like I have done in the past and our donation fund is getting very low. There are other expenses related to the program and the website as well. I know the economy has hit us all, however, if you have it within your means to help us here at Visibility 9-11, please consider donating here.
Thank you.
Michael