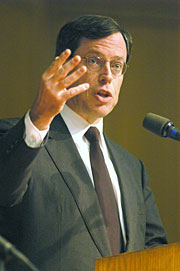 If you don't know who he is, Philip Zelikow was the Executive Director of the 9/11 Commission. Paul Sperry wrote, "though he has no vote, (Zelikow) arguably has more sway than any member, including the chairman. Zelikow picks the areas of investigation, the briefing materials, the topics for hearings, the witnesses, and the lines of questioning for witnesses… In effect, he sets the agenda and runs the investigation."
Over the years, we have read several reports having to do with the "suspicious behavior" of Philip Zelikow. As it states in the linked article "on October 9th, 2010, during "Freedom Watch" with Judge Napolitano, 9/11 Whistleblower Lt. Col. Anthony Shaffer alleges that during a lunch in Philadelphia, a 9/11 Commissioner told him that, "everybody on the commission was covering for someone." The following week, Judge Napolitano asked Philip Zelikow to appear on the show to talk about this. He REFUSED."
I had read another story recently where Zelikow refused an "on-camera interview," and it occurred to me that I have seen him do things like refuse interviews or comments several times over the years. In the article that I read, it states "Zelikow (they spelled it Zeleco, but I fixed it) declined an on-camera interview but says he pulled no punches and says the commission was well aware of the NSA's findings about al Qaeda even if the raw intelligence wasn't fully explored."

That is bullshit. The idea that they "pulled no punches" or were "well aware of the NSA's findings about al Qaeda" considering the lengths they went to avoid the NSA, is laughable.
Anyway, I did a little research and found other instances where Zelikow refused a comment or interview.
In this report from 2004, it says "through a Miller Center spokesperson, Zelikow declined to comment." In this report from 2006, it says "Zelikow didn't respond to e-mail and telephone queries from McClatchy Newspapers" (that is probably my favorite example). In this report from 2008, it says "calls to 9/11 Executive Director Philip Zelikow seeking comment were not returned and 9/11 Commission Chairman Tom Kean could not yet be reached." In this report from 2008, it says "Zelikow refused to be interviewed in person for Shenon's book, insisting instead that all questions be submitted in writing via email, which was also the way he answered them" (to be fair, that report actually gets into correspondence between Phil Shenon and Zelikow).
Normally, when you hear that someone refuses to comment or refuses an interview, you AUTOMATICALLY think that particular someone has something to hide. Well, NOTHING is different in this case. Philip Zelikow needs to answer for everything that he has done.
In the "Post-9/11 World" we are asked to report "suspicious behavior." What number do I call to report Philip Zelikow's behavior?