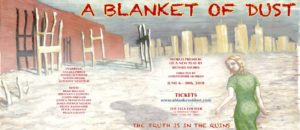 A Blanket of Dust is a political thriller and a new addition to the Theater of Resistance. A Blanket of Dust is the story of Diana Crane, a modern day Antigone. The daughter of a US Senator whose husband has died in the World Trade Center, her subsequent ordeal in seeking justice for his murder ultimately drives her to the outer fringes of society. Struggling with facts that the government, the media, her family and her countrymen deny, she finally confronts them all with a harrowing act of sacrificial tragedy.
WORLD PREMIERE OF "A BLANKET OF DUST"
By: Richard Squires ("Crazy Like a Fox")
Off-Broadway Play
Theater: Flea Theater Mainstage, 20 Thomas Street, NYC 10007
Website: www.ablanketofdust.com
SOCIAL MEDIA:
Facebook: www.facebook.com/ablanketofdust
Twitter: https://twitter.com/ablanketofdust
Instagram: @a_blanket_of_dust
WHEN:
June 6th thru 30th, 2018
Preview: June 6-11
Opening: June 12
Closing: June 30
ABOUT:
On the morning of 9/11, Diana Crane, the daughter of a ranking US Senator, gets a farewell phone call from her husband trapped in Tower 1, just before it collapses. She rushes in a panic to New York City to witness the solitary collapse of Building 7, never hit by an airplane. She is tortured by the evidence that all 3 buildings seemed to collapse identically, with their remains suggesting they were purposely demolished. Follow Diana as she pursues the most powerful people in Washington to seek justice for her husband's death, only to learn that the government for the people, by the people…may not actually be for the people.
STARRING:
Angela Pierce
Tommy Schrider
Alison Fraser
SCHEDULE:
June 6th through 30th, 2018
Mondays through Saturdays at 7:00 PM. Matinees Saturdays at 2:00 PM. No shows on Sundays.