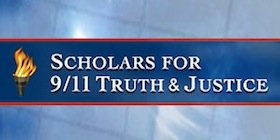 Scholars for 9/11 Truth & Justice Rejects Association with Directed Energy Weapons and Mini-Nukes in Draft Bill by Erik Larson
Scholars for 9-11 Truth & Justice Misrepresented in Draft Bill Sent to 8 House Members
Scholars for 9/11 Truth & Justice has just issued a press release to make clear that it does not support a recent draft bill that proposes Congress investigate discredited theories, i.e. that "mini-nukes" or "Directed Energy Weapons" caused the destruction of World Trade Center 1, 2 & 7. Also, Dr. Steven Jones, known for publishing papers that address flaws in the NIST reports and present evidence of controlled demolition, has objected to the way he's represented in the draft bill; he has never referred to thermate as an "explosive", for instance, though the bill says so. Also, no mention is made of the papers he's co-authored that have been published in peer-reviewed journals, a major milestone in the 9/11 Truth Movement:
Fourteen Points of Agreement with Official Government Reports on the World Trade Center Destruction by Steven E. Jones, Frank M. Legge, Kevin R. Ryan, Anthony F. Szamboti, James R. Gourley, Open Civil Engineering Journal
Environmental anomalies at the World Trade Center: evidence for energetic materials by Kevin R. Ryan1 , James R. Gourley2 and Steven E. Jones 3 in The Environmentalist
In the press release for the Ellis, et al bill it says the idea originated with Joel Hirschhorn and Virginia Ross; that Barbara Ellis, Barry Ball and Warren Pease drafted the bill; that the "final draft was sent for review and changes to Hirschhorn and 22 nationally recognized experts either on the 9/11 event or renown in the scientific and technological fields about the collapses"; and following that, Ellis, Ball and Pease went to DC to lobby 8 members of Congress to adopt it. The "22 nationally recognized experts" are not named, and this statement only says it was sent to them "for review and changes"; it does not say what their response was, or that any of them actually support the draft published at opednews.com. Steering committee members of STJ911.org were sent a copy of the bill, and they decided not to support it, for the reasons outlined in the STJ press release; no endorsement was given by the organization, though Ellis refers to the bill's four authors as "Scholars for 9/11 Truth & Justice".
The eight House members are named; according to Ellis' press release, "Presentations were made to science and technology legislative staffers of House members Reps. Rush Holt (D-NJ-12), Jay Inslee (D-WA-1), Walter Jones (R-NC-3), Dan Lipinski (D-IL-3), Jim McGovern (D-MA-3), Ed Markey (D-MA-78), Dana Rohrabacker (R-CA-46), and John Tierney (D-MA-6). Two are members of the House Science and Technology committee: Lipinski is vice chair, and Rohrabacker is the third-ranking Republican. Only one staffer (Tierney's) was disinterested. Another (Rohrabacker's) asked the presenters for an additional hour of discussion." If you support new investigations into 9/11 and are in DC, or are one of these Representative's constituents, you may want to contact their office and find out what they were told, and what their response is- and also let them know about STJ911.org's press release disavowing association with DEW, mini-nukes and the current version of this draft bill. You can look up your Reps at VoteSmart.org.
The draft bill cites Judy Wood and Morgan Reynold's NIST Request for Correction (RFC) that faults NIST for not addressing the unsupported and discredited theory that Directed Energy Weapons destroyed the WTC; however, it makes no mention of the credible RFC filed by family members and Scholars for 9/11 Truth & Justice. This, even though those involved in this draft bill appear to be associating themselves with Scholars for 9/11 Truth and Justice. Judy Wood is not a member of the organization; indeed, a number of articles and letters have been published at STJ911.org's peer-reviewed, open access web journal, Journalof911Studies.com, that refute her work.
This draft bill proposal for a new investigation of 9/11, although it takes space and time to detail absurd claims, also makes no mention of the fact that 70% of the victims families questions were ignored by the 9/11 Commission, and are still waiting to be addressed by an honest investigation.
As Kevin Ryan observes in the STJ911.org press release, "asking Congress to investigate many poorly defined, and highly implausible hypotheses minimizes the chances that Congress would be willing or able to investigate the actual evidence for the demolition of three WTC buildings." People are bound to speculate on the reasons someone would frame a bill this way, but whatever the intent of the authors, it's true that misinformation distracts and discredits, and that using wording that associates the bill with an organization that didn't endorse it and had no role in drafting it, is not normal, reasonable or ethical. Given that there's no actual evidence for "mini-nuke" and DEW theories, and polls show these theories aren't endorsed by the vast majority of people who support investigation of 9/11, including the 9/11 Family Steering Committee, it's actually shocking that they would be included in a bill drafted and presented to members of Congress by people calling themselves "Scholars for 9/11 Truth & Justice". The bill's authors are free to speak and publish as they wish, but if their desire is for full disclosure regarding 9/11, in my opinion, they should withdraw this submission in favor of a bill that will generate support from established and reputable 9/11 Truth organizations, scholars and activists; such as Scholars for 9/11 Truth and Justice– and the many organizations, activists and researchers that will be reposting their press release.
For more information on WTC controlled demolition, and debunking of DEW and mini-nukes:
Fourteen Points of Agreement with Official Government Reports on the World Trade Center Destruction by Steven E. Jones, Frank M. Legge, Kevin R. Ryan, Anthony F. Szamboti, James R. Gourley, Open Civil Engineering Journal
Environmental anomalies at the World Trade Center: evidence for energetic materials by Kevin R. Ryan1 , James R. Gourley2 and Steven E. Jones 3 in The Environmentalist
Why Indeed Did the WTC Buildings Completely Collapse? by Dr. Steven Jones
9/11 – Evidence for Controlled Demolition: a Short List of Observations by Dr. Frank Legge
118 Witnesses: The Firefighters' Testimony to Explosions in the Twin Towersby Dr. Graeme MacQueen
The Top Ten Connections Between NIST and Nano-Thermites by Kevin R. Ryan
Evidence: The Destruction of the World Trade Center – Scholars for 9/11 Truth & Justice
A Brief Analysis of Dr. Judy Wood's Request for Correction to NIST: the Good, the Bad, and the Ugly By Dr. Greg Jenkins Co-author: Arabesque
Video.Google Interview with Dr. Judy Wood and Dr. Greg Jenkins – National Press Club, Jan 10, 2007
INTERVIEW WITH DR. JUDY WOOD AND DR. GREG JENKINS: National Press Club, Washington, DC, January 10th 2007 – Transcript by Arabesque; Analysis by Dr. Greg Jenkins and Arabesque
Hard Evidence Repudiates the Hypothesis that Mini-Nukes Were Used on the WTC Towersby Dr. Steven E. Jones
The Overwhelming Implausibility of Using Directed Energy Beams to Demolish the World Trade Center Towers by Dr. Greg Jenkins, co-author Matt Sullivan
Scholars and Family Members Submit Request for Correction to 9/11 NIST Report: Gaps and inconsistencies reveal fundamental flaws in NIST's building collapse analyses – Scholars for 9/11 Truth & Justice